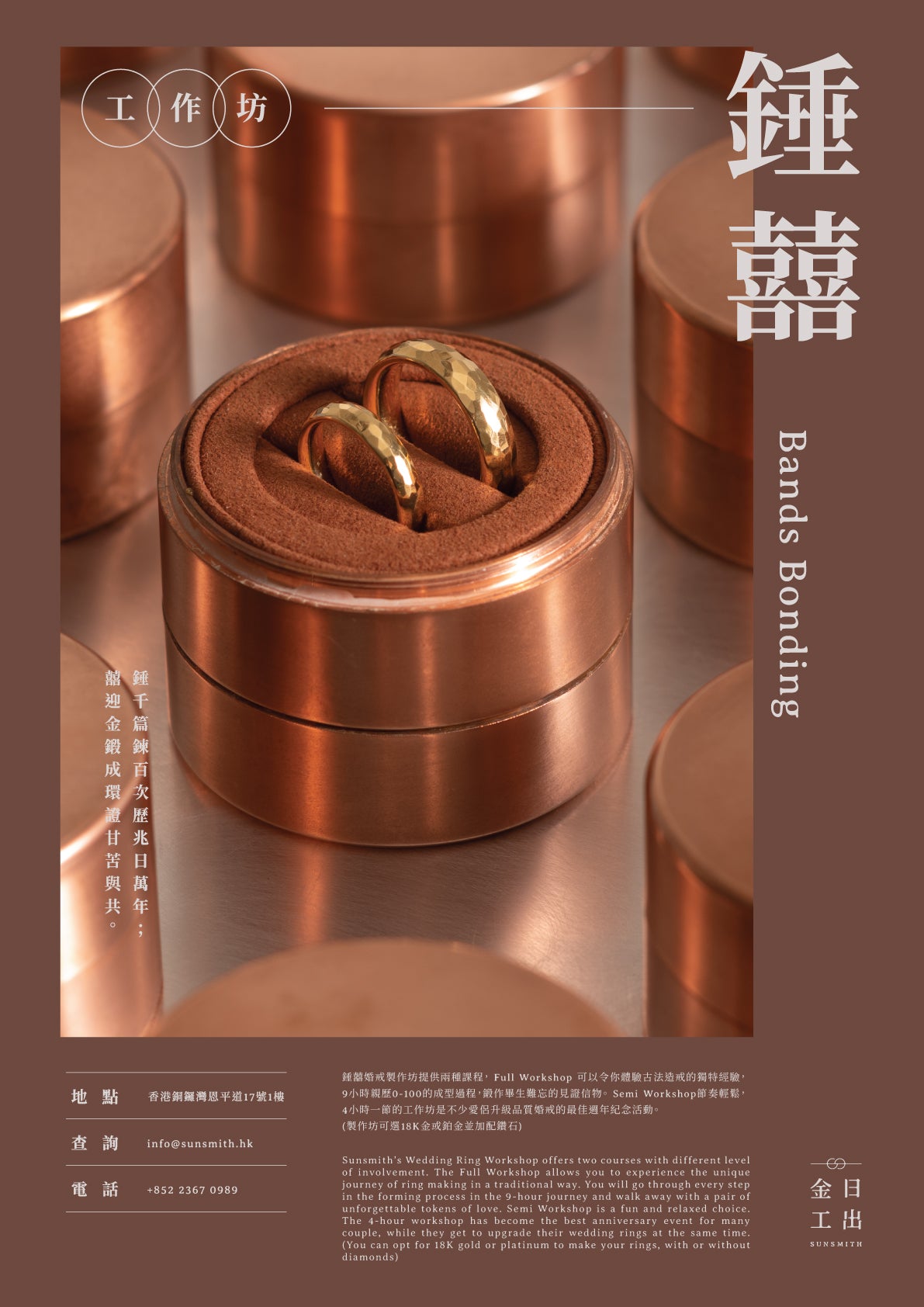 Handcrafted rings are not only a piece of valuable memory, it also serves
as a testimony to your marriage. Every mark left on the ring lets you
reminisce on the moments shared together with your other half.
Our workshop is well equipped with professional tools mainly imported
from Europe and the United States, to ensure professional precision.
Here, our tutor will guide you step by step with how each tool is utilized
to aid you in making your wedding bands.
Content : Our goldsmiths will teach you to make 18K wedding rings. The process includes
hammering, sawing and polishing, all can be done under the guidance with no
metalworking experience.
Materials : Full-workshop (18k yellow/red/rose/grey gold) Semi-workshop (18k
yellow/red/rose/ash/walnut/grey/black/white gold or platinum).
Duration : 3 - 4 hours for Semi-workshop. Full-workshop include 3 sessions, 3 - 4 hours
each.
Venue: 1/F, 17 Yun Ping Road, Causeway Bay, Hong Kong
Fees: Semi-workshop starts from HK$20,000.
Full-workshop starts from HK$30,000.
Students Notes
1. Please read the workshop safety guidelines and wear appropriate clothing.
2. By making payment, you agree to our Workshop Safety Policy, Terms and Conditions.
3. No refunds will be made for fees paid, except for cancellations.
4. Please make sure the workshop will not coincide with your personal schedule before payment is made, we do not accept cancellations or refunds for this reason.
Course Change Arrangements
Please note that all payments are non-refundable. If you need to change the time, please contact us 10 days before. Changes are subject to availability at the time.
Workshop Safety Rules and Policy
1. No food is allowed in the workshop.
2. Only bottled beverages with caps are allowed in the workshop.
3. Please wear aprons distributed in the workshop.
4. Please tie up your hair in the workshop.
5. Please keep your tools clean and dry.
6. Please wear shoes that cover the entire foot.
7. Do not use or touch any tools without instructions. Students are fully responsible for any damage to yourself, others or property caused by the uninstructed or improper use of any tools.
8. The above guidelines are to protect safety of our students and tutors. In the event of a breach of these guidelines, we reserve the right to stop lessons without refund. If students causes damage to himself/herself, others or property, students are fully responsible.