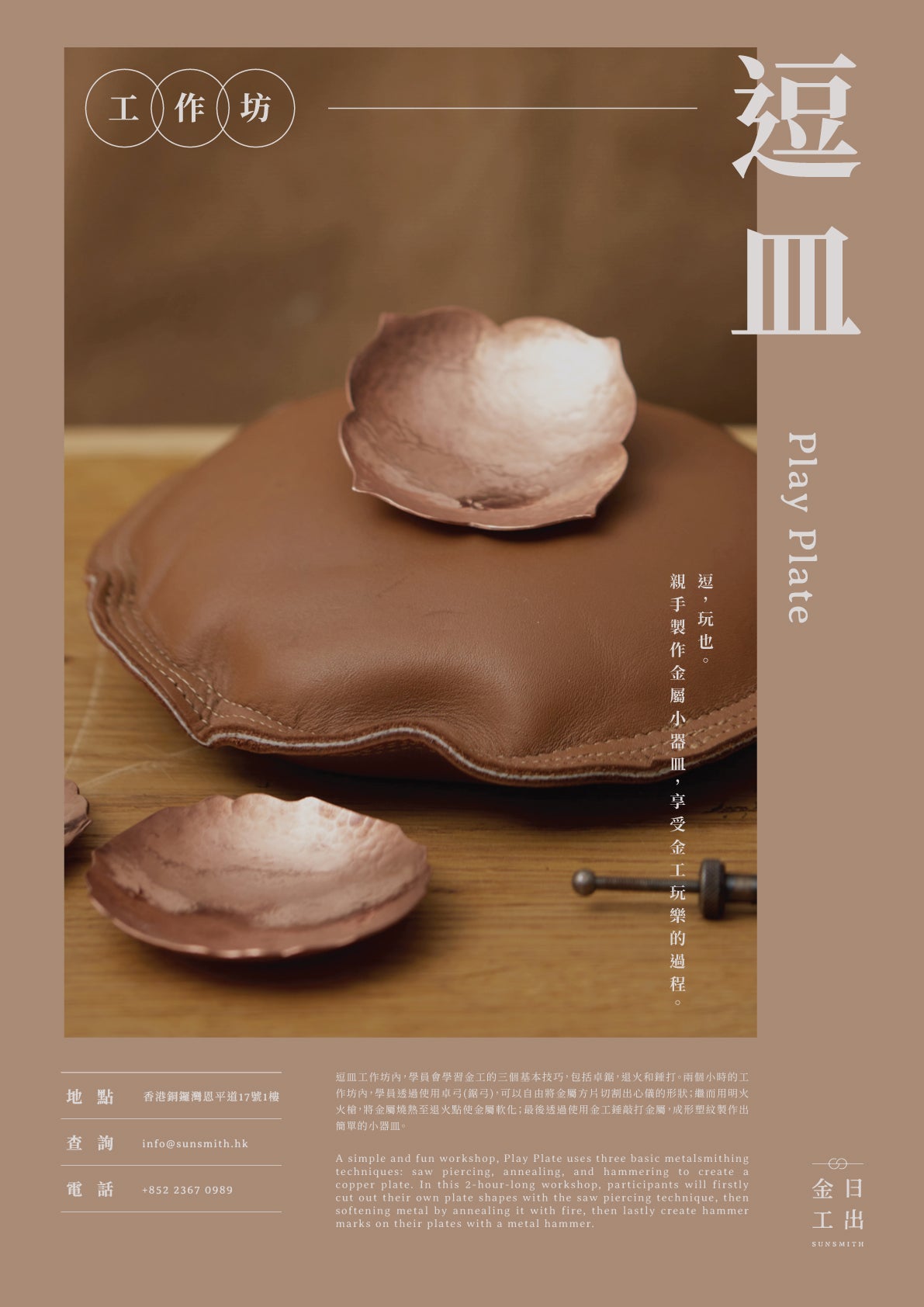 Enjoy the fun of metalsmithing by personally making your very own
copper plate!
A simple and fun workshop, Play Plate uses three basic metalsmithing
techniques: saw piercing, annealing, and hammering to create a copper
plate. In this 2 hour long workshop, participants will first cut out their
own plate shapes with saw piercing technique, then learn how to soften
metal with annealing, and lastly create their hammer mark with a
planishing hammer.
Contents : Our goldsmiths will guide you through the process of
making copper plate. The process includes hammering and polishing,
all can be done under the guidance with no metalworking experience.
Materials : Copper
Duration : 2 hours.
Venue: 1/F, 17 Yun Ping Road, Causeway Bay, Hong Kong
Students Notes
1. Please read the workshop safety guidelines and wear appropriate clothing.
2. By making payment, you agree to our Workshop Safety Policy, Terms and Conditions.
3. No refunds will be made for fees paid, except for cancellations.
4. Please make sure the workshop will not coincide with your personal schedule before payment is made, we do not accept cancellations or refunds for this reason.
Course Change Arrangements
Please note that all payments are non-refundable. If you need to change the time, please contact us 10 days before. Changes are subject to availability at the time.
Workshop Safety Rules and Policy
1. No food is allowed in the workshop.
2. Only bottled beverages with caps are allowed in the workshop.
3. Please wear aprons distributed in the workshop.
4. Please tie up your hair in the workshop.
5. Please keep your tools clean and dry.
6. Please wear shoes that cover the entire foot.
7. Do not use or touch any tools without instructions. Students are fully responsible for any damage to yourself, others or property caused by the uninstructed or improper use of any tools.
8. The above guidelines are to protect safety of our students and tutors. In the event of a breach of these guidelines, we reserve the right to stop lessons without refund. If students causes damage to himself/herself, others or property, students are fully responsible.